What you eat is crucial for good gut health.
We have put together three delicious (and easy!) gut-friendly recipes that are filled with nutrient-dense ingredients rich in fiber, probiotics and prebiotics!
---
Breakfast: Great Digestion Smoothie
INGREDIENTS:
1/2 large frozen banana

Handful of organic spinach

1/2 cup water

1/2 cup coconut water

1/4 cup packed fresh parsley leaves
2 tablespoons avocado

1 teaspoon packed fresh grated ginger

1/4 teaspoon probiotic powder, optional

lemon or lime slice, for garnish
DIRECTIONS:
Add all ingredients into a blender and blend until smooth
---
Lunch: Kale + Tahini Salad
SALAD INGREDIENTS:
1 head of kale finely chopped, with stems removed

2 Tbsp. fresh lemon juice

2 tsp. extra-virgin olive oil

1 medium purpe cabbage thinly sliced

4 large fresh figs, cut in half
2 tsp. fresh lemon zest

Salt to taste

Option to add in handful of chopped walnuts
DRESSING INGREDIENTS:
4 Tbsp. tahini well-stirred

6 Tbsp. warm water

½-1 lemon, juiced

1/2 tsp. salt, or to taste

1 tbsp. maple syrup, or more to add sweetness
INSTRUCTIONS:
Kale Salad:
Massage the kale in a large mixing bowl with your hands with the lemon juice, olive oil, and sea salt, to taste. Massage until the kale is very tender and dark green. 
Add the rest of the salad ingredients to the bowl
Tahini Dressing:
In a small mixing bowl, mix the dressing ingredients until it forms your desired consistency (should remain relatively thick). 
Add more water or lemon juice, if needed. Pour over the salad and toss to combine. Serve immediately.
---
Dinner: Gut-Healthy Salmon Recipe
Salmon Ingredients:
2 wild-caught salmon fillets
10 Brussels sprouts, cut in half

1 head of kale, shredded or finely chopped

½ head of cauliflower (or buy pre-packaged cauliflower rice)

3 tbsp. of extra-virgin olive oil

1 tsp curry powder
Marinade Ingredients:
1/4 cup tamari sauce

1 tsp Dijon mustard

1 tsp honey
Sesame seeds, to taste (optional)
Instructions:
Preheat oven to 180°C.
Add chopped Brussels sprouts to baking tray. Coat with 1 tbsp olive oil and season with salt.
Roast in the oven for 20 minutes
While baking, make the marinade by combining the tamari sauce, Dijon mustard, honey, and sesame seeds together. Stir until combined well.
Remove the Brussels sprouts once finished baking and add the salmon fillets to the tray. Spoon the marinade over the salmon fillets and return to the oven for roughly 13-15 minutes, or until the salmon is cooked to your desire.
While the salmon is cooking, heat 1 tbsp of olive oil in a pan over medium-high heat. Add the kale and sauté until wilted (2-3 minutes). Remove the kale from the pan and set aside.
Heat the remaining oil in the pan and add the cauliflower rice. Season with 1 tsp of curry powder and salt and sauté until cooked (2-3 minutes).
Remove the salmon and the Brussels sprouts from the oven and divide into two bowls. Add the sautéed kale and cauliflower rice to the bowls and serve.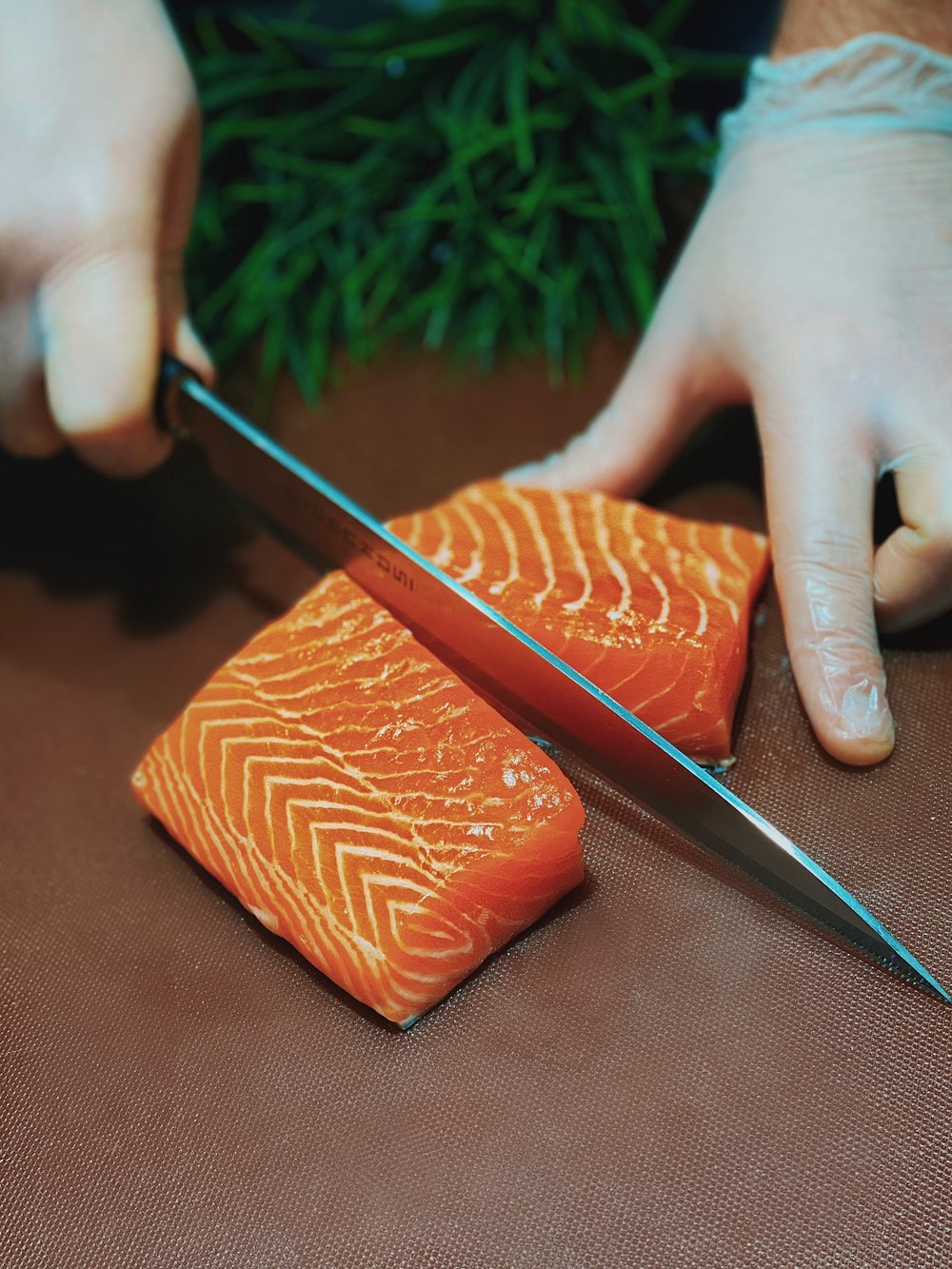 Source
3 Recipes to Optimize Your Gut Health  is written by Dr. Lana Butner for www.drlanawellness.com